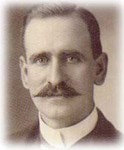 The Yates Security brand had its genesis in the security industry over 100 years ago when Thomas Yates (grandfather of Ian Yates) left the NSW Police Force and started the business. Thomas Yates was born in 1872 and served as a trooper in the remote Kimberleys. When he married, he joined the NSW Police Force and was based in Sydney. Whilst he was attending a large fire his lungs were affected and he developed pleurisy. As a result he was invalided out of the force. In 1900 he put his knowledge of the city and its security requirement to good use and started his security business known as Yates City Night Patrol, servicing Sydney's citizens and businesses. Tom Yates was proud of his position and responsibilities in the Police Force and throughout his life demonstrated a social conscience and family values.

Kevin Yates was born in 1912. He worked in the family business during the Depression and also became highly involved in the co-operative movement. During his wartime service in the RAAF he had the opportunity to examine the well-developed co-operative and credit union movement in Canada. On his return to Australia, Kevin Yates formed the first credit union in Australia, the Universal Credit Union Co-operative. He was also instrumental in establishing the Australian Consumers' Association and was a founding director of Choice magazine. In the words of Keith Young, the first secretary of the NSW Credit Union League, Kevin Yates was "unselfish, devoted and dedicated, with a deep religious conviction and concern for his fellow man".

Ian Yates served from 1970 as director of a number of privately managed businesses covering the security, property, retail and investment industries. One of Ian's companies owned the largest parcel of private land in the Darling Harbour area which is now the site of the Chinese Garden. In 1981 Ian took over the management of Yates Security from his father. Ian was elected to the NRMA Limited Board for a four-year term from 1997 and had experience on a number of NRMA Boards, including Insurance, Investment, Finance and Life. Ian's broad business experience was a key factor in positioning Yates Security for further expansion.